The World Association of Sport Performance Centres
ASPC Board meets IOC and Olympic Solidarity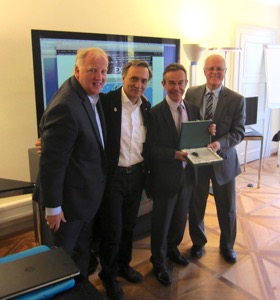 The Board of ASPC met with the Department of Sports and the IOC Olympic Solidarity to continue collaborative discussions initiated last year and then offering to the Deputy Director General of the IOC , Pere Miró, the award plate of the ASPC
The framework of collaboration extends to the ASPC Forums and other areas of the Centres related to athletes and coaches training, online course or entourage initiatives as dual career.
Best practices
Centre d'Alt Rendiment (C.A.R.) Sant Cugat
Canadian Sport Institute Calgary
News
Here we have a new edition of the newsletter
The BID forms to apply for a Board position are available. 
The representatives of all the Centres members can apply.
We encourage all of you to submit your BID!!
Forums
Wednesday, 23 August 2017
to
Saturday, 26 August 2017
XXX Participants from XX Countries
PRIME HUMAN PERFORMANCE INSTITUTE in DURBAN
will host the ASPC Xth International Forum on Elite Sport.
Thursday, 27 August 2015
to
Saturday, 29 August 2015
76 Participants from 24 Countries